We have sent an extra report to our customers this morning, outlining the POTENTIAL sell signal that's looming in the FTSE Futures. Here is the text and accompanying chart:
We have a potential "Head and Shoulders" pattern forming in the FTSE, although the sell signal has not been given yet.
The sell signal comes if we break the "Neckline" which is at 5851, and probably on a closing basis as well (although a "clean" break on high volume would convince me enough to take the signal "intra-day").
The target, using the traditional measuring technique for this pattern, would be 5600.
Of course this also comes off the back of the recent failure at 6095, which was very similar to the February high/failure (6086.5). The "Double Top" sell signal from this situation would only be triggered on a move through 5584.5, so a long way off yet….
5851 is on the radar, however, so "Watch this space!"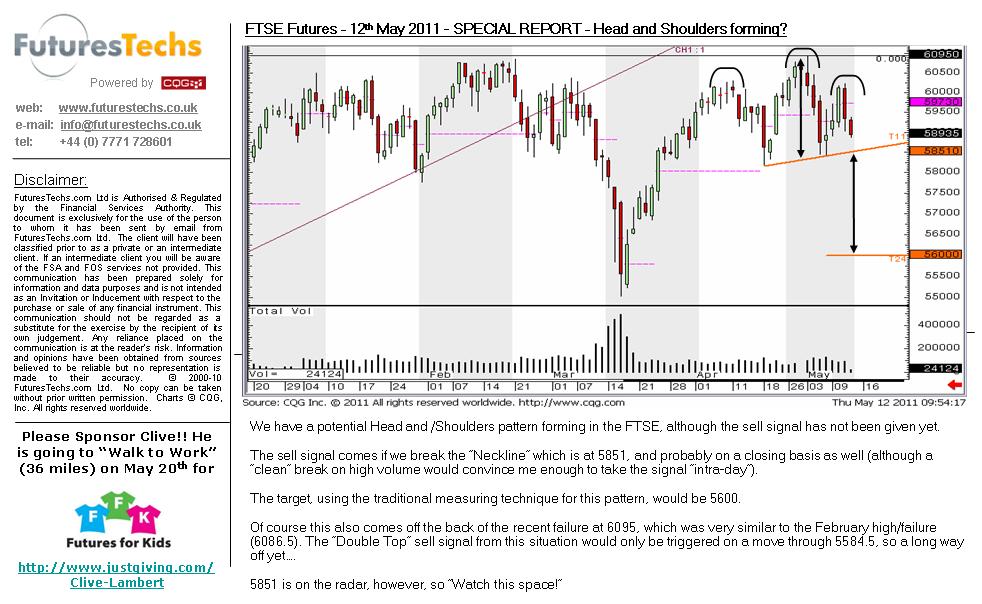 If you would like a free trial of our daily technical analysis reports please click on one of the links below:
"Professional Trial", for Traders, Fund Managers, Brokers etc click HERE.
"Website Membership" for Individual traders, suitable if you're Spread Betting or trading CFDs click HERE.