Our daily Oil and Energy Technical Report looks at the charts across the energy complex, covering Brent Crude, GasOil, NYMEX WTI, UK Nat Gas, US "Henry Hub" Nat Gas, Dutch TTF Nat Gas, EUA Carbon Emissions, and German Baseload Power.
This report was formerly distributed by the broker GFI and very popular it was too! Alas our agreement with GFI ended in December 2017 and since then we've been signing up clients directly (the reason we know it was popular!). Thank you to those who have already signed up.
For those who haven't I'd like to think you're missing out on some good recent calls.
In fact in EUA Carbon Emissions we have maintained a bullish stance since July of last year when the price was below €5. It has been as high as €14.17 in recent weeks before seeing a pullback. But the pullback has been limited and today was the latest example of the last support of note (€12.51) "doing a job".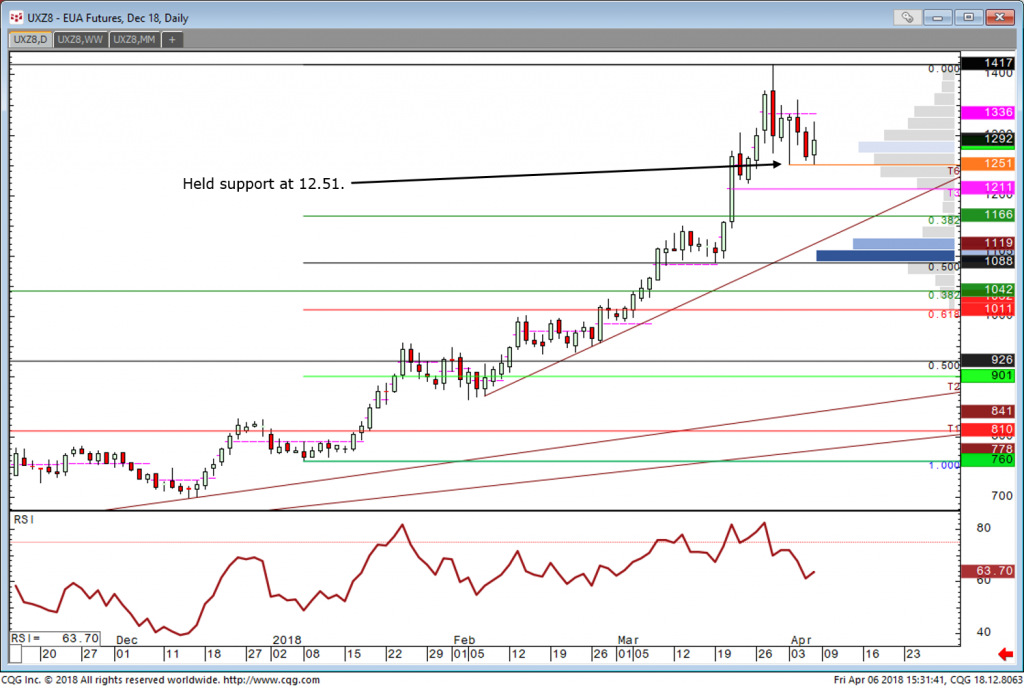 We also cover German Baseload Power; the benchmark for Power markets in Europe.
This too has been heading higher for a while now, and this week has behaved well in holding Marabuzo support at 35.65. Above the recent high at 36.60 we are looking for a move to 37.00 then 38.38.
But don't just take our word for it! We are happy to set up free trials for anyone who wants to view the reports "live", so click below and get started.

PS. We have just found out we've been shortlisted for 4 categories in this year's Technical Analyst Awards, including "Best Independent Research House for Commodities". We are the current "holder" of this award, and it's the 6th year we've been shortlisted in this category. It's also the 6th year in a row we've been nominated in the "Independent Research House of the Year" category, which we won in 2014.