2012 has started well for equity investors as January has seen gains across the board. A standout performer is the Dax which has gained 10.9% YTD as of the close on the 26th January. Mainstream financial media would have you believe that the ESM, EFSF, ECB's SMP, QE 1 and 2 (3? around the corner) and various other three letter acronyms (TLAs) created by the establishment have rescued capitalism and the financial system from sure disaster. Undoubtedly an exceptional amount of liquidity has been made available to financial markets and as a result asset classes have been boosted, but as a Technical Analyst there are signs that particular markets may be due for a pause.
Yesterdays blog post included the FTSE Index approaching a significant Fibonacci retracement and testing a trend resistance line as shown below (Click on the picture to enlarge it)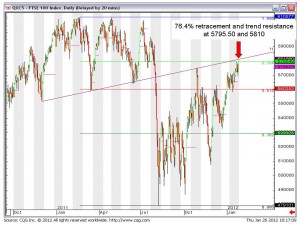 Today we highlight a similar situation in the DAX (Click on picture to enlarge it)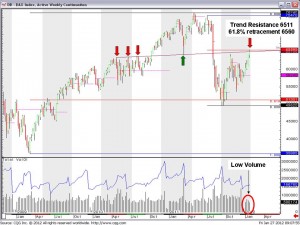 The chart shown is the Dax Future and highlights the recent rally approaching resistance. An old trend line which has proven both resistance and support, and the 61.8% Fibonacci Retracement level of the July '11 to September '11 bear move are both being tested during this weeks price action.
The Dax has a particular relationship with the 61.8% retracement and often provides critical points of consolidation and often reversals. In September '11 the Dax consolidated around the 61.8% retracement of the 2009 -2011 bull market and whilst the popular press and general consensus continued to call for lower prices the Technicals indicated a reversal was due, which I highlighted vehemently in our reports and in a special webcast. Another worrying sign is the lack of volume attributable to the gains seen so far this year suggesting the weight of 'Real Money' is unwilling to partake in higher prices, making them less sustainable.
So while the general consensus is for higher prices supported by unlimited liquidity from Central Banks worldwide, the Technical Outlook suggests the bigger picture Risk/Reward doesn't favour the bulls.
Please navigate to the relevent buttons above to request a Free Trial of our reports, which cover all the major Equity Indices as well as Bonds, Commodities and Forex.
Liam Roberts MSTA