We've posted a sell recommendation in CME Group Soybean Futures today, so thought we'd add it to this page for all to share!
Sell Soybeans (July '08) @ 1263, stop at 1305, target 1125 then 1050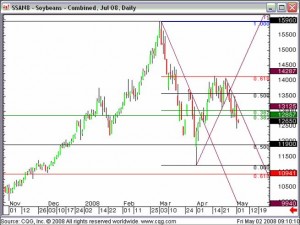 There's been a huge press for the soft commodities of late and things had started to look severely overdone. While Corn Futures are still just a few ticks off their all time highs, we topped out in Soybeans a while ago, back in early March in fact. Most of March was spent heading lower but then we rallied, taking back 61.8% of the losses seen in March. We've kept a close eye on things since this failure, and now that we're below 1300 and 1285 we want to be short again, looking for a fresh test of the 1121.4 low set on April 1st. Below here we have an uptrend support line on the longer term charts that comes in at 1042, so we've set our second target here.
We've set our stop above 1300, but you could use 1285 as a reference to stop out of you need it to be tighter.