Last Thursday we highlighted Silver, which we described as being "on a tear". We have since added 10% then given back 10%, rejecting a high just shy of the psychologically important 50 bucks mark. Here's what we've put out to our clients today:
"This is no reason to go short. Selling something that's going up is dangerous, bordering on stupid. Sure, it probably can't go on, but for now there's no signs of a reversal in sight".
This line from last Thursday's report seemed to create a bit of a stir and it looks like it was quoted on at least one newswire story. So what is a sign of a reversal?
A candle with a large range but a really small real body? Yes, that sort of thing Like yesterday's? (A Long Legged Doji, to give it a name). Precisely….
Yesterday this one traded up to 49.820. In today's overnight session we have traded over 10% off of this high. Interesting times. Where did we top out the last time around, when Bunker Hunt was buying all the Silver in sight? 50 bucks, give or take…
Channel support is 42.735. We would "call a top" if the market drops through here, especially if it happens quickly.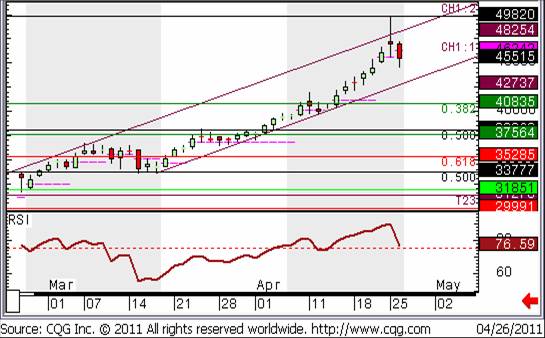 Here at FuturesTechs we cover 22 markets every day, giving Chart, Support and Resistance levels, plus Commentary each morning before the markets open. This award winning service is widely read by Investment Professionals, and some of our clients have been with us since we started over 10 years ago.
If you are an Individual Trader please go to http://www.futurestechs.co.uk/trial/ to request a free trial of our Web-based service.
The same reports are available to Fund Managers, Brokers and "Pro" Traders in printable format. If you are in this category please request a trial at http://www.futurestechs.co.uk/professional_trial/