Here is an excerpt from our FTSE Futures report that was sent to our clients at 6.48 (UK time) this morning. As you can see our trade idea was to sell at 5745 with targets at 5720, 5695 and 5670. We have hit the first target and suggest stop is now moved to entry.
Yesterday's first hour saw a rally from 5694 to 5749. The next 7½ hours' range was 5717.5 to 5749.5. After hours a 5759.5 print was achieved, which was enough to give us a Bullish Outside Day on the "all sessions" chart, but a quick glance at the volume should deflate any excitement you may be experiencing about this reversal and it's potential "power".
For now I'm classing that 5759.5 print as a failure at key resistance, and would ask that 5758-59 was seen off before I back the bulls, even though we have moved away from short term Fibonacci support at 5695.
Trade Idea: Sell at 5745, stop at 5765, targets 5720, 5695, 5670.
Below is our report in full. As you can see the automated levels also include popular moving averages plus Pivot Points. The support and resistance levels on the bottom left are from our own (human!!) analysis.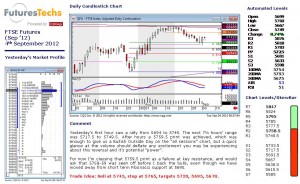 Please click on the buttons above to request a free trial of our award winning daily analysis. We also publish the analysis on our iPad App (search for FuturesTechs on the App store).
Markets covered include Equity Indices (DAX, Eurostoxx, Dow, S&P, NASDAQ), Bonds and STIRS (T-Notes, Bund, Bobl, Schatz, Euribor, Short Sterling), Commodities (Brent, WTI, Gold, Silver, Corn, Wheat and Soybeans) and a number of leading FX Crosses.