A number of intertesting developments on this chart in recent days. Here's what we wrote today:
Instead of gapping higher the NASDAQ failed at the previous days high and Marabuzo resistance. Selling down to 2775.25 was seen before a recovery into the close resulted in little change from the opening level.
.
Like the Dow and S&P the NASDAQ continues to hover around the 2012 high ahead of the FOMC announcement later today. Our Skew is in neutral territory as futures are currently in the middle of yesterdays range.
.
A move through 2799.75 – 2801.25 targets the 2012 high at 2829.50. A move through yesterdays low becomes a worry for the bulls as the Evening Star formation gains traction as a reversal signal and targets 2740.75 gap support.
.
.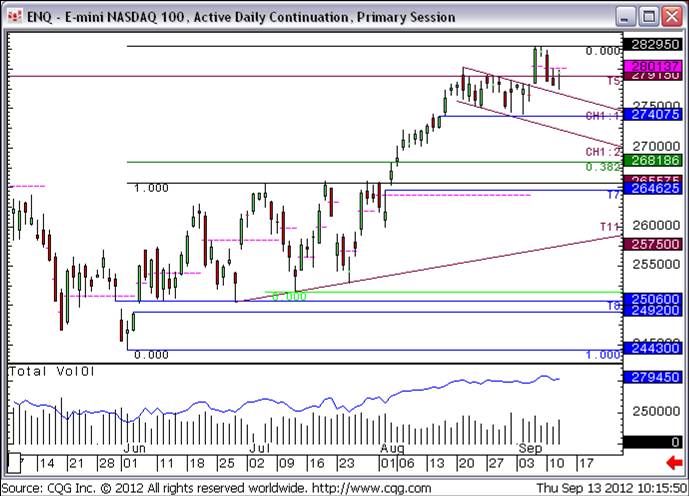 .
And here's a personal opinion that has nothing to do with charts. The iphone 5 isn't enough of a "game changer" to keep Apple on their current "parabolic" trajectory. I am now watching the AAPL chart for signs of a reversal. There, I said it.
We also write daily analysis on the S&P and Dow Futures, DAX, Eurostoxx and FTSE, as well as a number of leading Futures markets in the Bond and Commodity space.
Do you want a FREE TRIAL? Be our guest.