All week now we've been suggesting that Marabuzo support at 1720.6 would be a good place for a buy order. Yesterday this was proved in some style. Just prior to the FOMC announcement we got a 1720 print. Then we got the nod on "QE3" from the Fed, and Gold ramped, getting up to  1775 by the end of the session. What now for Gold? Here's today's report:
Gold dipped to 1720, our buy level, and then rallied to 1775 through the 61.8% retracement. The resultant candle provides Marabuzo support at 1751.2, another dip buying level for the bulls.
The weekly chart has been posted below as it shows clear Horizontal resistance and the 2012 high between 1792.7 and 1804.4. Profit taking ahead of this level is to be expected, but an eventual move through it targets the multi week high at 1923.7.
.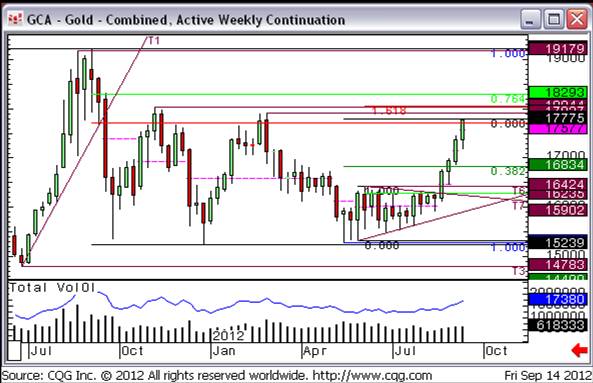 .
FuturesTechs produces daily Technical Reports for Gold Futures as well as Silver, a number of Oil and Energy contracts, plus a weekly comment on Corn, Wheat and Soybeans.
We also write daily analysis on Fixed Income and Equity Index Futures, and Forex majors.
Feel free to request a free trial.