Chart 1: Mystery chart!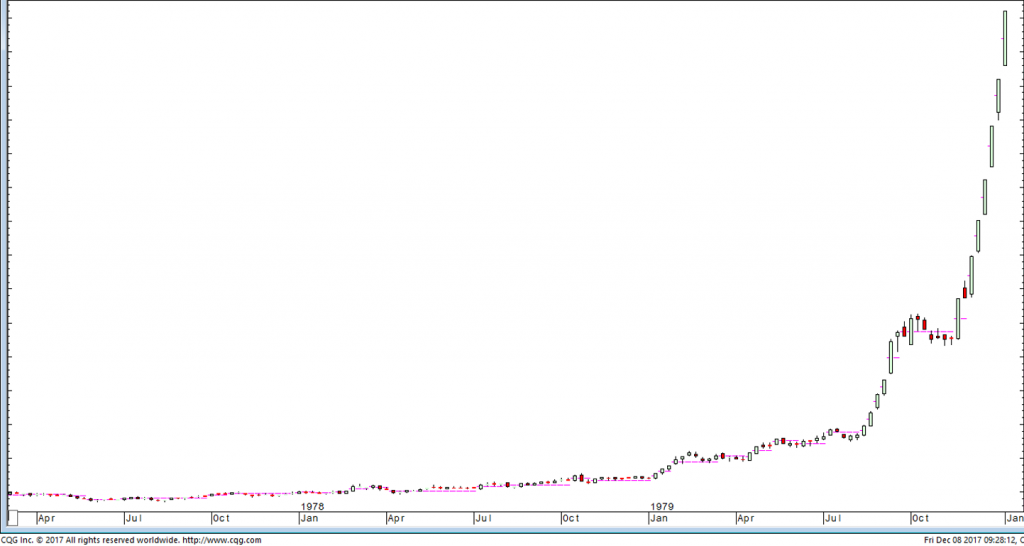 Any offers as to what this chart is?
Any thoughts on what this chart looks similar to?!
I think you know where I'm going with this!
Read on…
Chart 2: Silver in the 1980s…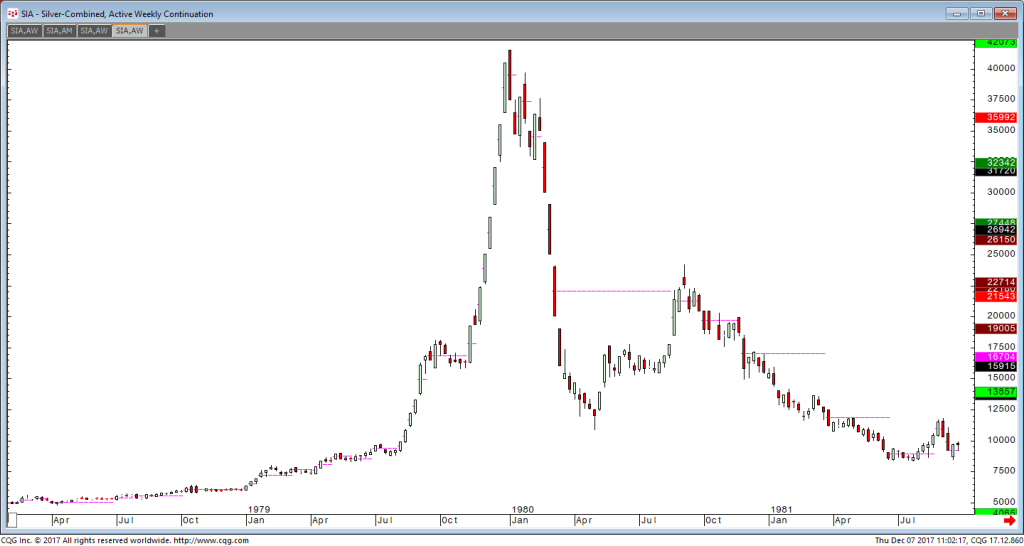 This is the rest of the chart… Silver in 1980. It rallied sharply after being "cornered" by the Hunt Brothers.
It went "Parabolic"… then fell over just as quickly.
There is a huge amount of excitement around Bitcoin right now and I'm very worried!
Whether it's being cornered or is just a plain old speculative bubble a la Tulips in 1640 (something I've been highlighting on Social media this week!) one thing's for sure: It's gone PARABOLIC, and it's UNSUSTAINABLE! Pure and simple…
And in the coming weeks you will be able to trade Bitcoin Futures on CBOE and CME. I have a couple of thoughts on this…
The Exchanges are irresponsible for introducing this in the rushed/not thought out properly manner that they have.
It might just turn out to be a damp squib anyway. How many new Futures contracts are introduced and "fly" straight away?
The price limits/circuit breakers they're planning to impose mean it could be closed more often than open, especially if we maintain volatility levels seen these last few weeks!
This move allows "real money" to trade Bitcoin. Or to put it another way, to SHORT Bitcoin…
Yahoo, AOL and Alta Vista were the biggest search engines for the internet in 2000. Who's uses them now? I have no doubt that Blockchain is a big thing, but Bitcoin might be the "early casualty"…
Have fun peeps, but be careful!..
…and here's a nice picture of some Tulips… Read up on Tulip Mania in the 1640s… Human beings have been making the same mistakes for near on 400 years… this is nothing new…