Things might be happening in the Euribor. Below I've posted the last couple of days' analysis for the June '13 contract to paint the picture:
Yesterday:
June '13 is testing the top of a channel that's been on our chart for a while, in fact the this line gave us Friday's 99.765 high.
99.825 is the next target above here (A Fibonacci extension) but the search for resistance levels is something akin to a lottery because it's a slow grind higher into uncharted waters, with par looking large.
Support-wise there is an uptrend line sitting at 99.695, in front of the last higher low at 99.655.
Daily MACD is flat lining, RSI is showing some divergence without giving a firm signal, and Stochastics is nudging overbought.
Bollinger Bands suggest we might see a bit of a pullback from here, but 99.665 should do a job as support, so only a "bit"!
.
Today:
.
We discussed a number of reason yesterday to think that we could possibly be topping out at these levels, but the key thing we ask for is a reversal pattern then confirmation.
We now have the reversal pattern. Yesterday things started off strongly then selling was seen. This selling took us through Friday's low and we closed weakly, leaving a large red real body that "Engulfs" the smaller green real body posted on Friday.
If we now CONFIRM this with a break of trend support at 99.70 we'll look for a pullback.
Maybe today's raft of numbers will be a catalyst to decide this either way!
And here is the chart accompanying today's analysis. Please click on the chart to enlarge:
.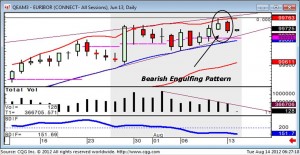 .
FuturesTechs produces daily Technical Reports for Euribor Futures as well as Bund, Bobl, Schatz, Short Sterling, T-Notes and Eurdollars. "STIR" reports provide levels across three delivery months.
For 12 years we have been a market leader in provision of analysis to traders in these markets, and we have won awards for our Fixed Income coverage.
We also write daily analysis on Equity and Commodity Futures, and Forex majors.
Please use the buttons above to request a free trial.