What we've seen overnight may be giving us a big clue to the future direction of Silver (and therefore Gold, and maybe even other assets).
Silver broke higher over Christmas, taking out strong resistance around 14.85-95 that had been weighing for months. This triggered a reaction that saw gains to 15.955 by the time the New Year kicked off. All we've seen since is weakness, but one of the levels we took out on the "Santa Rally" was 15.20, and was the 38.2% Fibonacci retrace of the selling seen from last June's high at 17.35 to the November low at 13.86. So as we kicked off the New Year we said to clients that 15.20 and 14.85 were key support levels, and we've been waiting to find out since!
We found out overnight, seemingly, and the answer, with respect to 15.20, was a big "YES!".
15.50 and 15.60 now sit in front of that high from earlier in the month at 15.955, which itself was a failure on the first test of the 61.8% retrace of the same move (16.02).
As and when 15.95 to 16.02 are taken out this one could/should fly, and we would be targeting a move back to 17.35 at this time, then 20.00 and 21.22, the latter being a big level dating back to July 2016…
Watch this space…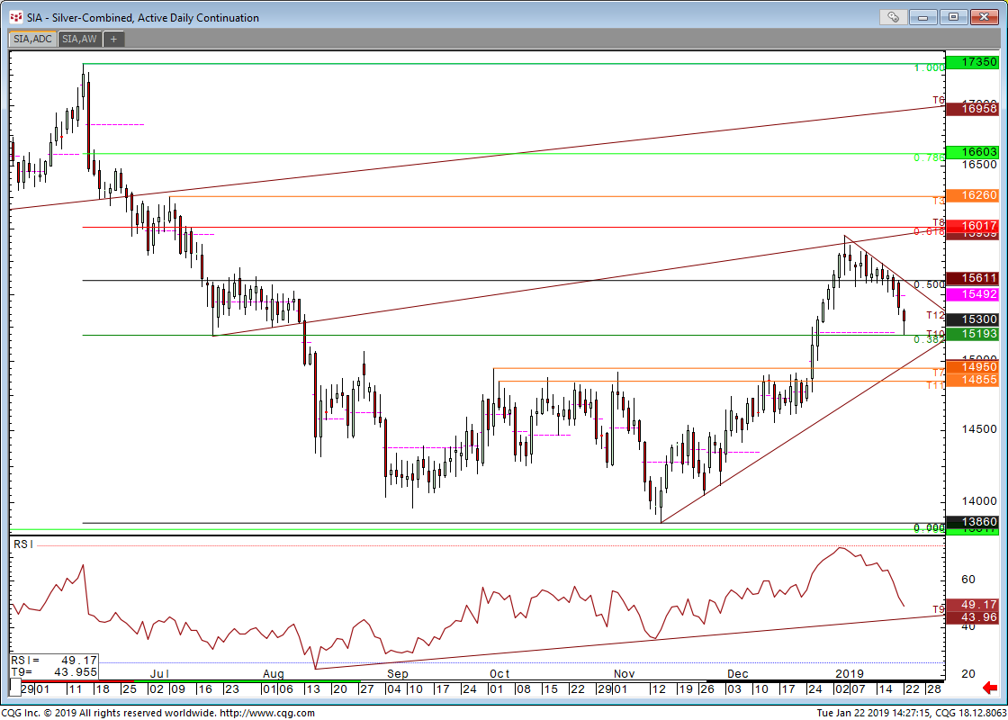 To get a free trial of our daily ramblings on Silver and 25 other markets* please go to http://www.futurestechs.co.uk/premium_trial/
*We also cover:
Commodities: Gold, Brent Crude, WTI, US Nat Gas, UK Nat Gas, Dutch TTF Nat Gas, EUA Carbon Emissions, German Baseload Power.
Fixed Income: Bund, Bobl, Schatz, Euribor, Short Sterling, Gilt, T-Notes, Eurodollars
Equities: DAX, Eurostoxx 50, FTSE, Dow and S&P 500 Futures
Forex: EURUSD, GBPUSD, EURGBP, USDJPY