We have set a weaker tone for EUA Carbon Emissions this week and on Tuesday broke the 100 day Moving Average (the blue line on our chart, at 21.60), a line that had been holding on pullbacks since the start of the year. This prompted an instant reaction, dropping down to a low today (so far!) of 19.45 where we've found some buyers.
This is pretty much a "Carbon copy" (shamelessly bad "punnage" there, I know!) of what we saw in late October last year, as you can see from our daily chart below. That time the 200 day SMA held, like a dream (the green line & arrows on our chart), and we rallied sharply from here to get right back to big resistance around 26.00 by the start of 2019.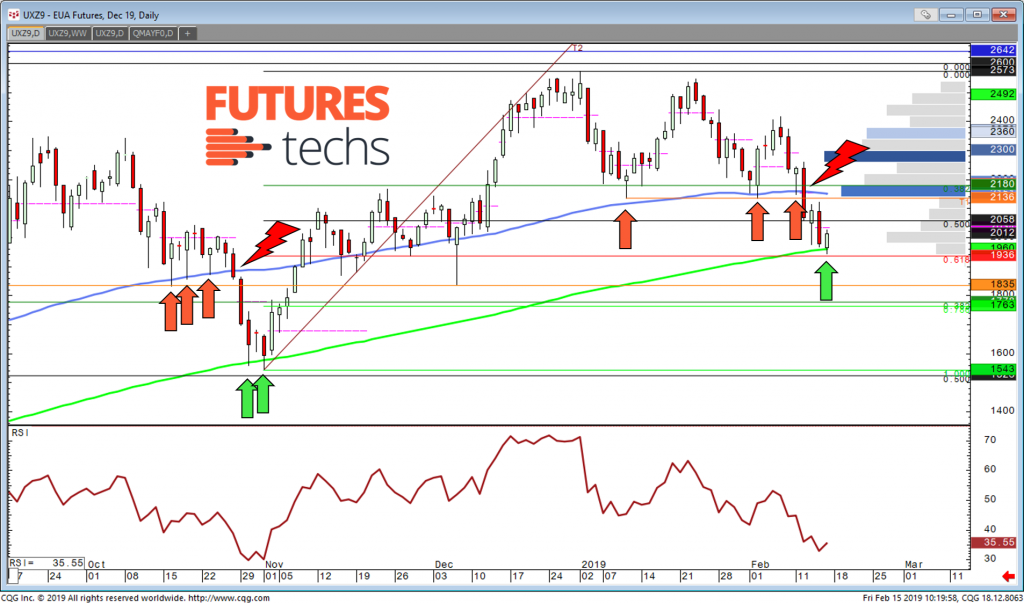 So are we set to do the same? The jury is out on that idea for me just now. In fact after a recovery on Wednesday I said to clients that we were going to stick with the bears, which proved to be a good call with weakness seen again yesterday. For now we are bearish in the short term and would ask for one or two big levels above to be retaken before saying that a low was in.
The next big question is "What if we break the 200 day Moving Average? Where could we go to then?" We can look at the Weekly chart for the answers to this.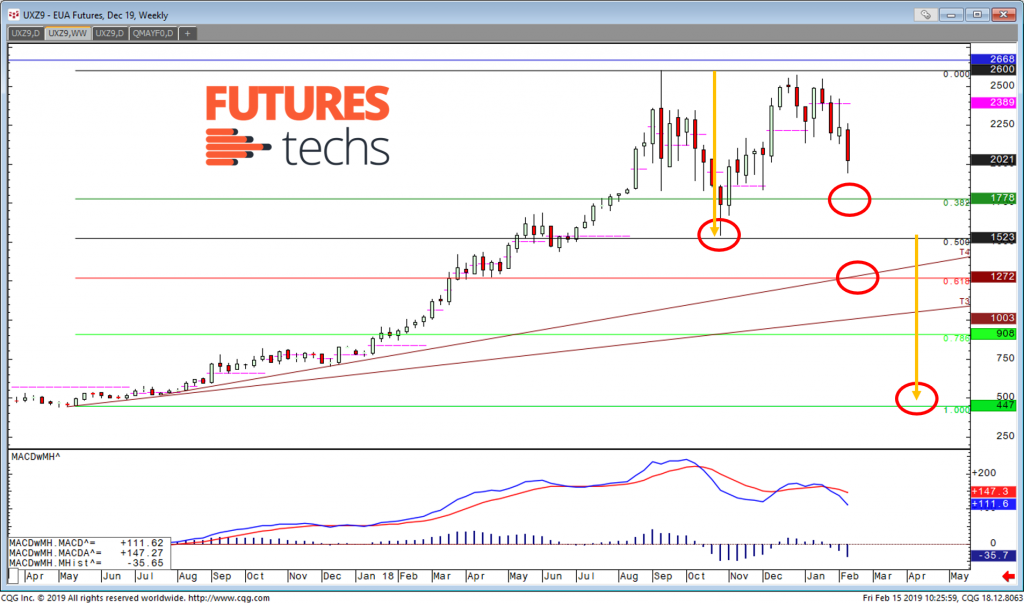 This says there are FOUR big targets/zones of support that could be seen if/when the 200 day SMA breaks. These are the red ovals on our chart and are:
17.38; the 38.2% Fibonacci Retrace of the May 2017 – September 2018 rally.
15.43; the late October '18 low/bounce
12.70-13.00 – We have a 61.8% Fib' and an uptrend line both around here.
4.86. This is the "measured move" target for a "Double Top" pattern IF (and that is an IF right now so don't panic!) we broke 15.43…
We write daily analysis on EUA Carbon and have also recently added Coal to our increasingly popular Oil, Gas and Energy Report, which also covers Brent Crude Oil, NYMEX WTI, US "Henry Hub" Nat Gas, Dutch TTF Nat Gas, UK NBP Nat Gas & German Baseload Power. If you want a free trial please CLICK HERE.