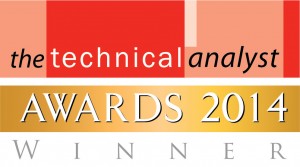 Many of you who follow FuturesTechs on Social media such as LinkedIn, Twitter and Facebook will know (so feel free to switch off now!) that we had a rather special night on April 24th, when we received three awards at the 6th annual Technical Analyst Awards Ceremony at the Meridien Piccadilly Hotel in London.
The first category we were short listed in was "Best Commodities, Energy and Power Research & Strategy". The other finalists were Credit Suisse, Kase and Company, Thomson Reuters and United-ICAP, and in such esteemed company I was very happy to be named as runner up.
However a few minutes later Award-master Trevor Neil got round to the "Independent" categories. We won Best Independent Research House for FX, quickly followed by snaring the glassware for Best Independent Research House for Fixed Income.
No sooner had I sat down and I was up there once more, picking up the "Independent Research House of the Year" award. THREE? Seriously? What a night!!
Luckily Mrs Lambert had decided to come along with me and I'm so pleased my number one supporter was able to share the moment with me. I dragged her up to accept the final award with me!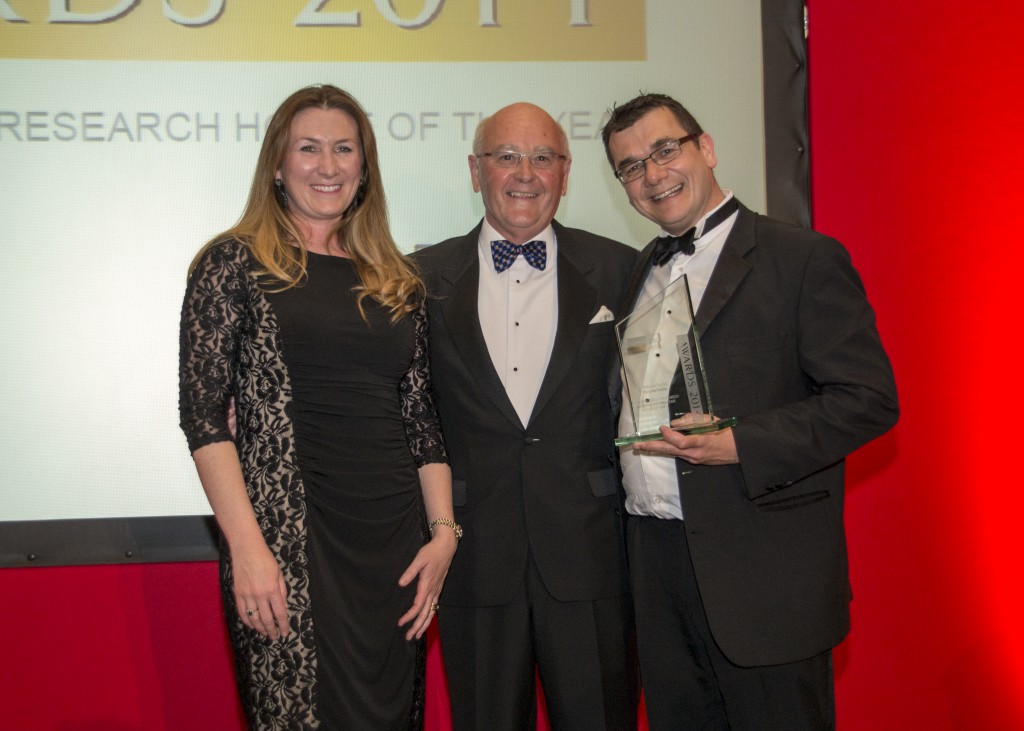 This meant I was then in the frame for the "Technical Analyst of the Year" award, where I missed out to David Sneddon from Credit Suisse, a thoroughly deserving winner, one of the hardest working and most well respected Analysts in the business (and a bloody good chap to boot!). Well done David.
I have been overwhelmed with the good wishes I've received from so many and thank you all for your kind words.
I would like to take this opportunity to say a big thank you to all of those who have supported me over the years; clients, family, STA colleagues, FuturesTechs colleagues past and present, the LIFFE "Family", and the chaps at the Technical Analyst Magazine for formulating an event to showcase Technical Analysis and recognise it's participants' hard work.
THANK YOU!
_________________________________
Here's the link to the Awards website:  http://www.ta-awards.co.uk/
Best Commodities, Energy & Power Research & Strategy
Finalists:
Credit Suisse • FuturesTechs • Kase and Company • Thomson Reuters • United-ICAP
Runner-up:
FuturesTechs
Clive Lambert, Director
Winner:
Kase and Company
Cynthia Kase, President
Best Independent Research House for FX
Finalists:
FuturesTechs • Informa Global Markets • Market Chartist • PIA First • RW Market Advisory • TraderMade • Trading Central
Runner-up:
RW Market Advisory
Ron William, Principal Market Strategist
Winner:
FuturesTechs
Clive Lambert, Director
Best Independent Research House for Fixed Income
Finalists:
4CAST • DayByDay • FuturesTechs • Informa Global Markets • Market Chartist • PIA First
Runner-up:
Market Chartist
Steve Miley
Winner:
FuturesTechs
Clive Lambert, Director
Independent Research House of the Year
Finalists:
DayByDay • FuturesTechs • Informa Global Markets • Market Chartist • Technical Analysis Group • Trading Central
Runner-up:
Informa Global Markets
Martin Jones, Chief European Technical Analyst
Winner:
FuturesTechs
Clive Lambert, Director