Yesterday's FTSE Futures price action resulted in a powerful "Gravestone Doji" reversal pattern being posted on the Daily Chart.
If you've read "Candlestick Charts" by yours truly you'll know this is a pattern with a Bearish implications matching it's rather morbid sounding name.  (If you haven't read it you should click here and buy yourself a copy!).
A Gravestone Doji is a Doji (ie a candle with no real body, so we opened and closed at the same price) where the open and close is at (or near to) the day's low. This leaves a long upper shadow, akin to a "Shooting Star", often a sign of upside rejection.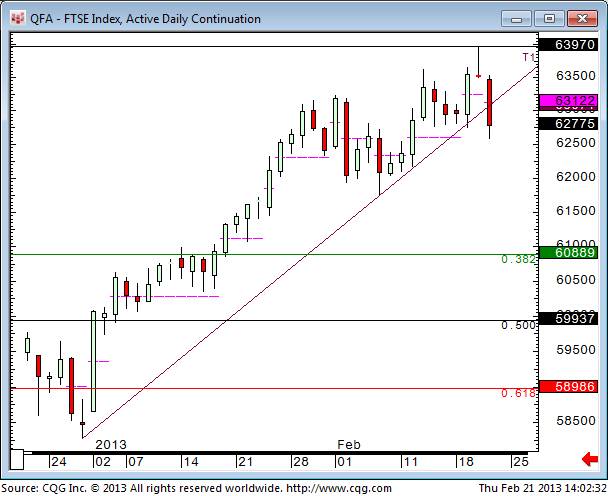 In this morning's report we noted that there was a trend support line at 6307 and we'd ask that this was taken out to give the reversal pattern some confirmation. The market has duly obliged, although as of right now a Marabuzo support at 6260, which was our bold S5 support, is doing a job as support.
Click here to view today's report for our Premium customers, and feel free to request a Free Trial here if you haven't seen our Analysis before, or even if you have!